Paint Your Victorian
Like many folks repainting the exterior of a Victorian-era old house, my wife Shelly and I knew our 1880s Queen Anne would paint up nice – that is, once we figured out what historic color scheme would do it justice. The good news was, after over 100 years the house still had its double-body cladding: decorative wood shingles over novelty horizontal siding (or what they mysteriously call German siding here in Maryland). The less-than-good news was it had been painted all white decades ago, a common fate for large Victorian houses to simplify maintenance while bringing them more in-step with the Colonial Revival movement of the 1920s. The few early photos we inherited were, of course, all black-and-white and only hinted at relative differences in color and placement – not actual colors. What to do?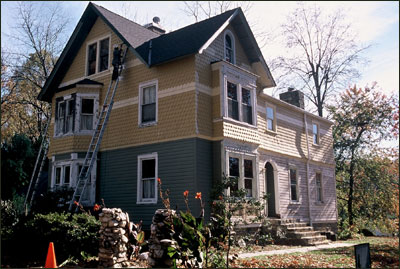 The thing is, with exterior colors it doesn't really cost any more in materials or effort to come up with a cool, multi-color paint scheme that brings out the architecture and details of the building. After all, that was the point after 1860 when new paint-colors-in-a-can intersected with arty millwork to produce Victorian polychromy. However, if you don't invest in a little homework and road-testing first, you can waste a lot in do-overs. Coloring drawings of the house with pencils, then testing paints on a back wall, Shelly and I narrowed our polychrome scheme down to two shades each of just two colors: ochre and green. This was a modest approach with colors that weather well and create a nice visual bridge to the earthy palette of the Arts & Crafts era.
We learned another valuable lesson from an old friend and historic color specialist, John Crosby Freeman, "The Color Doctor." Our plan was to paint the German siding on the first storey the pumpkin-y ochre, and save the green for the hex-butt shingles on the second storey, but John set us straight. "Use the lighter color on the shingles," he guided, "This way the shingles will cast stronger shadows and play up the texture of the decorative butts – which is the whole idea. (Also, the ochre looks more like the color of clay tile, which is what wood shingles are supposed to represent.) John went on to say, "Since the darker green won't highlight shadows as much, it will work to your advantage on the German siding by downplaying the craters in the old paint job." Sure enough, the color switch worked like a charm. What's been your exterior color revelation?